#83 Dan Tudor of Tudor Collegiate Services: How to Sell Even if You're Not in Sales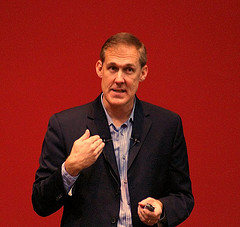 How one man created his own category within a niche.
Today I bring you Dan Tudor. His company, Tudor Collegiate Strategies, is the nation's leading consulting service for college athletic departments and coaches.
Their focus is developing winning recruiting strategies for their clients, who range from some of the nation's high profile athletic programs to small, private colleges.
The President and Founder of Tudor Collegiate Strategies and the popular "Selling for Coaches" training program, Dan is a regular speaker at coaches conventions around the country. We're going to talk today about how non-business people can apply business skills, like selling, to their profession to improve outcomes and performance.
But first…. If you don't have time to listen to the entire episode or if you hear something that you like but don't have time to write it down, be sure to grab your free copy of the Action Plan from this episode– as well as get access to action plans from EVERY episode– at JimHarshawJr.com/Action.
Comments
comments